11 Best Destinations for Kids for August and September
Looking for best destinations for your kids? Start looking for a travel planner or travel packages instead. We already have shortlisted 11 best destinations for kids for August and September. Select the most comfortable one for you and get your bags packed.
Best Destinations for Kids
1. Antalya, Turkey: Be it an adult or a kid, amusement parks are always fun. Aktur Park in Antalya is loved by every kid. Few places in Antalya that take the breath away include Sandcity, Dinopark, Minicity and Aquapark. Visit all these places with your kids and watch them enjoy.
2. Belize: Belize has a lot to offer to kids. Hike the Belizean rainforest or go for a cave tubing expedition, your kids will enjoy limitless. Horseback riding and sailing is loved by most of the kids. Don't forget to explore the Barton Creek Cave. And after all the enjoyment, relax on the beach!
3. Zion National Park, USA: To introduce your kids to the beautiful outer world, take them to the Zion National Park in the USA. They'll witness a part of the place they never knew existed. The tram, Riverside walks, Emerald pool trail, and Zion-Mount carmel highway – everything is simply amazing.
4. Nairobi, Kenya: There are a lot of places to explore in Nairobi with your kids. Let's name a few of them – The Giraffe Centre, Panari Sky Centre, Nairobi Arboretum and Karura Forest. Not only kids, but even adults can have a great time exploring these places.
5. Toronto, Canada: Toronto offers every kind of experience to kids. Enjoy the marine life at Ripley's Aquarium. Show some creativity at the Gardiner Museum. Make art at the Art Gallery. Visit Toronto zoo to meet the creatures. Gain some knowledge at Ontario Science Centre. And even now if your kids aren't tired, you can proceed with your exploration.
6. Isle of Wight, United Kingdom: Isle of Wight has a wide range of activities to be enjoyed. Kids love to visit Dinosaur Isle, Isle of Wight zoo and the Amazon world. Apart from these, Blackgang Chine, JR Zone, Maritime Museum and Falconry Centre are also great attraction for kids.
7. Tokyo, Japan: The list of Tokyo tours for kids has endless names. We can help you by naming some of them. The most popular ones are Shibuya Walking Food Tour, Private Sightseeing tour and National Museum tour. We hope Tokyo Disneyland is already in your bucket list.
8. Disney World, Florida: Florida is among the best holiday destinations. Couple holidays or family holidays – both become memorable in this beautiful place. Its Disney World makes it the best place for kids too. Your own prince and princess can have really good time here.
9. Miami Beach: Miami is famous for beaches an it has plenty of them. Jump to a beach with your kids and have fun in the sand and the cold water. Afterall, that's all a good summer season asks for! South Beach, Bal Harbor Beach, Lummus Park Beach and 12th Street Beach are some of the popular names in the list.
10. Millennium Park, Chicago: You can't miss out this place if you're planning to take your kids out. This place allows unlimited enjoyment to all age groups. Beautiful architecture and incredible art displays are a major attraction. Kids enjoy the outdoor music, though. And yes, please allow your kids to play in the water in Crown Fountain Towers.
11. Riviera Maya, Mexico: Among innumerable activities for kids, we list few things to do in Riviera Maya with your kids. Be adventurous with "Alltournative Tours", visit 3D Museum of Wonders, explore Aktun Chen, and enjoy Cirque du Soleil Joya. There is definitely much more than these in Riviera Maya.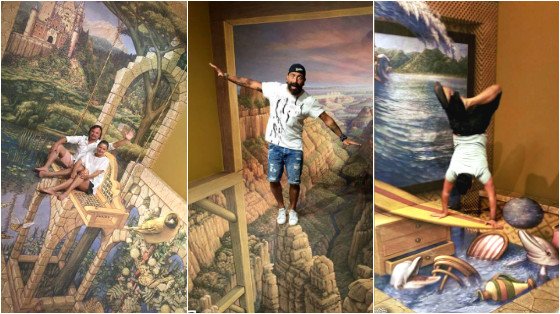 Now that you're done with selecting the best destinations for Kids, complete other preparations as well. Search for cheap flights and get your flight reservation done. Also, do try different foods of different places. And yes, make sure you get your travel insurance done.